Master Poster
HELLOCLAN LEADERSHIP
REGISTERED
Local time

12:02 PM
Joined

Jan 6, 2021
Messages

1,493
Reaction score

3,852
Age

26
Location
Real Name

Shaun

---
Greetings HelloClan community!​
It sure has been a hot minute since our last event (Dice City). Unfortunately, we've all been a bit busy but I promise we have not been sleeping!
With that said, here is our next event!
Battlefield Balkan 1991-1995​
What is this even?
Well, it's been brought up enough and then further suggested by
@TKO_Flight447
so I thought we'd run with this and give it a bash.
What is the mod about you may ask?​
The Battlefield Balkan mod for Battlefield Vietnam was designed to offer a fresh and unique gaming experience within a different setting. It transports players to the conflict zones of Croatia and Bosnia & Herzegovina during the years 1991-1995, with a selection of 39 historically inspired maps that capture the essence of the wars in these regions.
Within this mod, you'll encounter distinct factions, each with their own gameplay style, adding a dynamic and engaging element to the battlefield.
This mod is taking place on our Allmaps server!
November 11th 2023 @ 7PM UTC!
Notice;​
Because it is my intention to try get us to play all of the maps that Balkan has to offer, we will have a 15min map timer (adjustments may be made) to get us through all of them and to ensure that there isn't excessively long play times. Likewise, the server limit will be reduced to 32 (will be increased if we do get higher counts) to reduce the tickets available if they are excessive.
The event and mod will be played the entire weekend. Regular server maps will return from Monday night along with our normal server limit.
---
How do I install the mod?​
This mod is going to be a two-part install plus a guide to edit the shortcut, the first to download the actual mod and the second to download the multiplayer maps. I will try to make this as clear and simple as possible, please note that I will be on hand to provide assistance with the mod installation - if it is required please post in this forum:
Installation part 1:​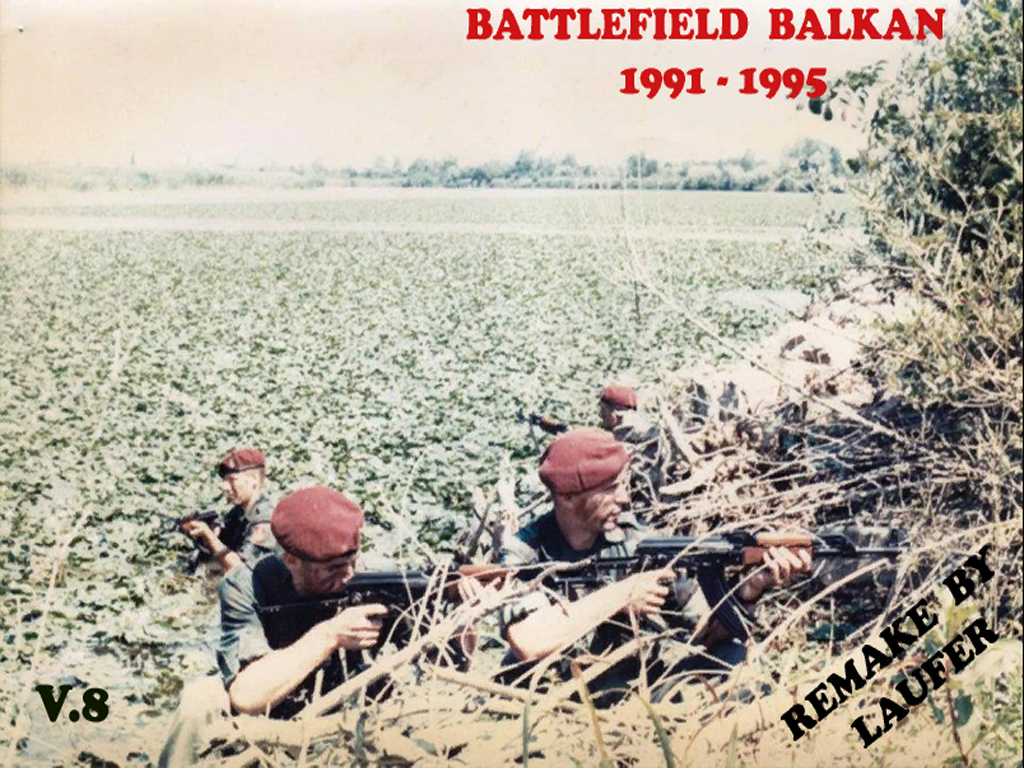 -------------------------UPDATED FULL MOD- version 8.2 -------------------------- - New weapons SAR 80, Ultimax 100, M-16 - Reworked models of Zastava sniper - New textures for Croatian and Serbian police/militia forces

www.moddb.com
1.1. Head over to the above link and download the full mod file. It is 1.91gb so I wish good luck to those that have...questionable internet speeds.
1.2. Once downloaded, extract the file using WinRAR / 7zip or if using Windows 10/11 you will be able to extract it using file explorer. For this guide I'll be using WinRAR.
To extract it, right click on the file > hover over WinRAR to see the right option or just straight out click on Open with WinRAR.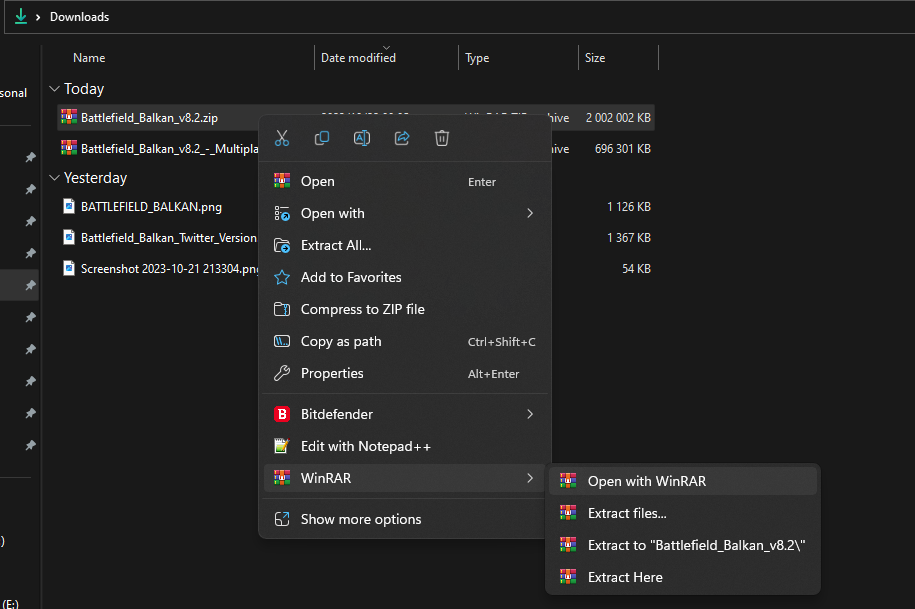 You'll then see this screen where you must click on the "Extract To" option then you'll see the center window where you can just click on "Ok".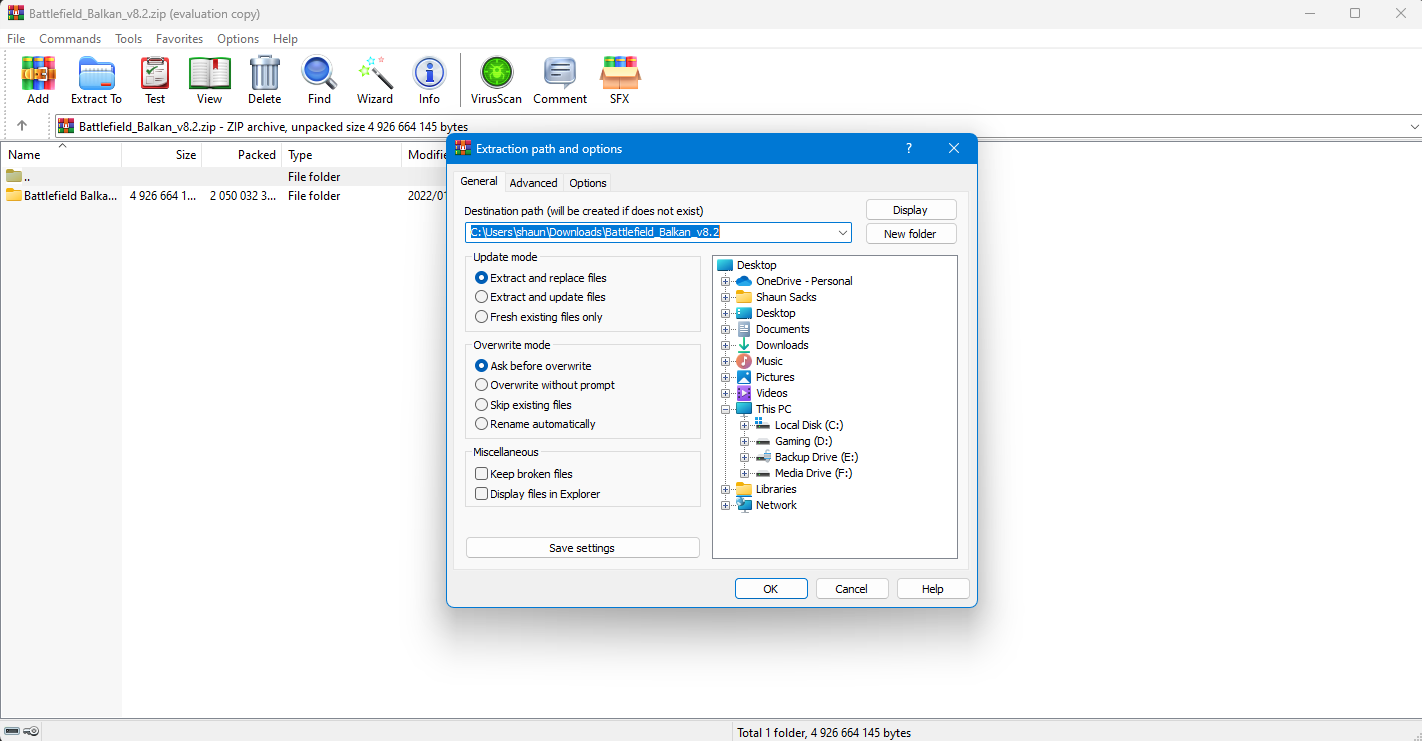 Once extracted, you will see it as a Folder back in your Downloads (or wherever you initially saved the file to):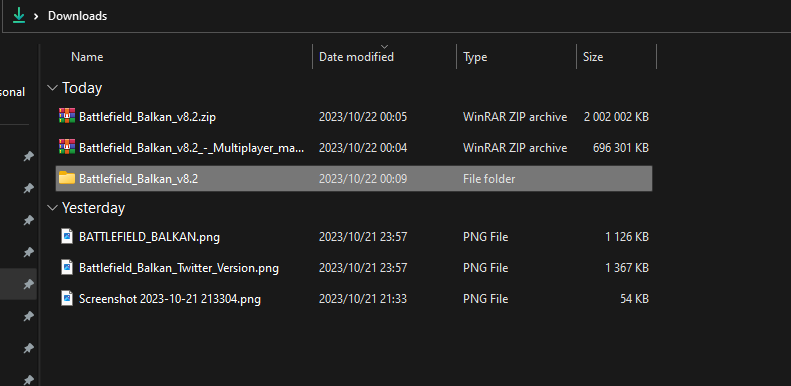 Head into the extracted file until you see the "BfBalkan folder, then you're going to Right Click on it and click "Copy":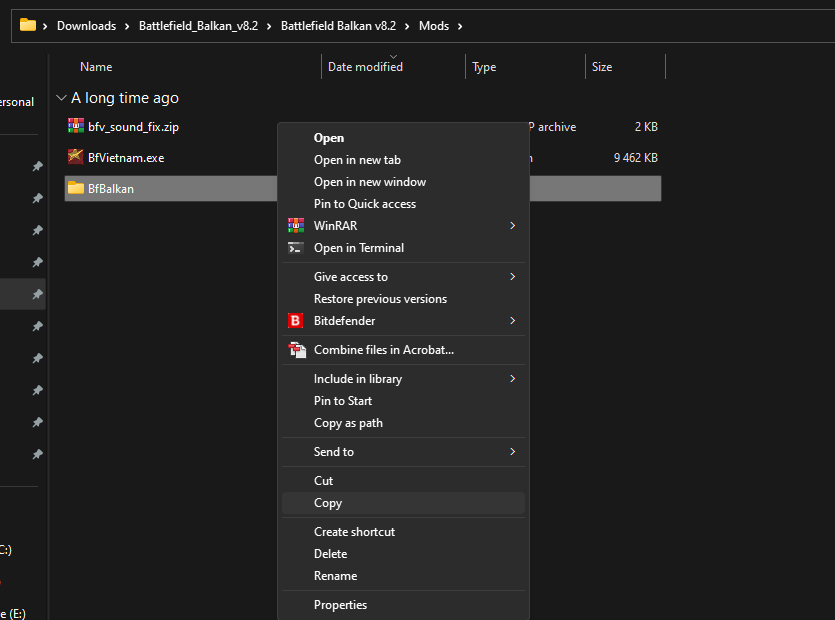 Once copied, you're now going to go to where Battlefield Vietnam is installed on your computer. Normally it is installed in either of the following locations:
C:\Program Files\EA Games\Battlefield Vietnam
or
C:\Program Files (86)\EA Games\Battlefield Vietnam
Once you find the right place, you'll see your game directory: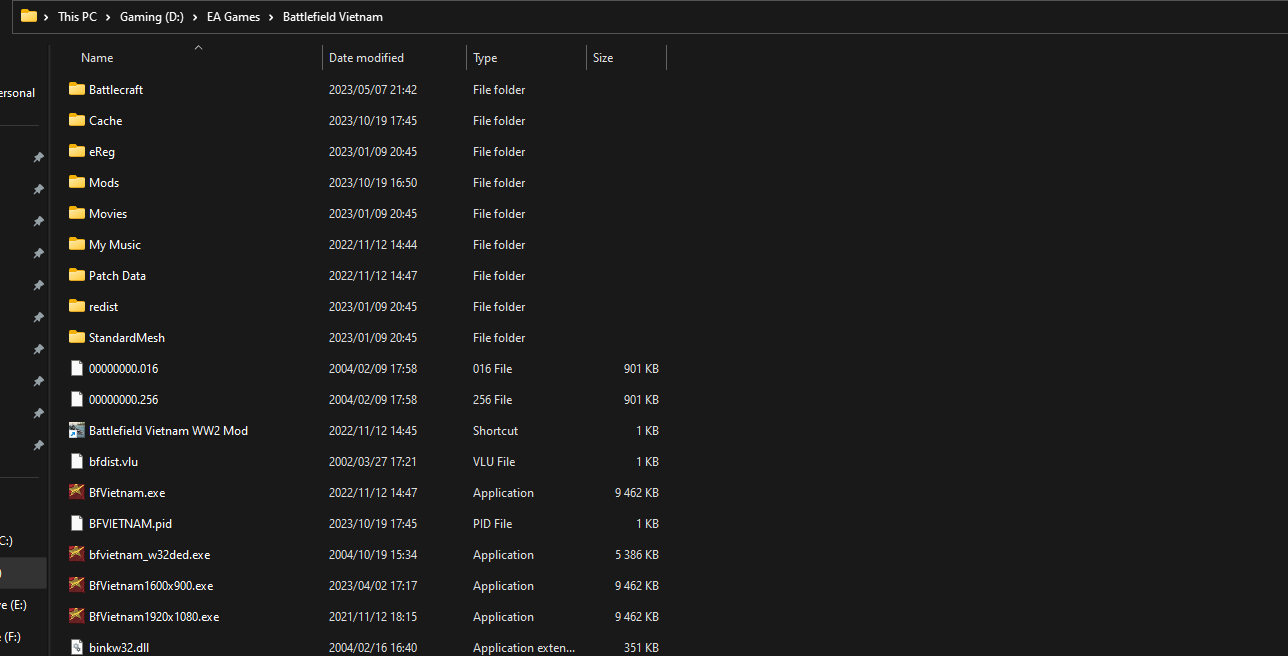 We're going to head into the "Mods" folder, then Right Click on an empty space and then click on "Paste". Note my folder already has the mod in it.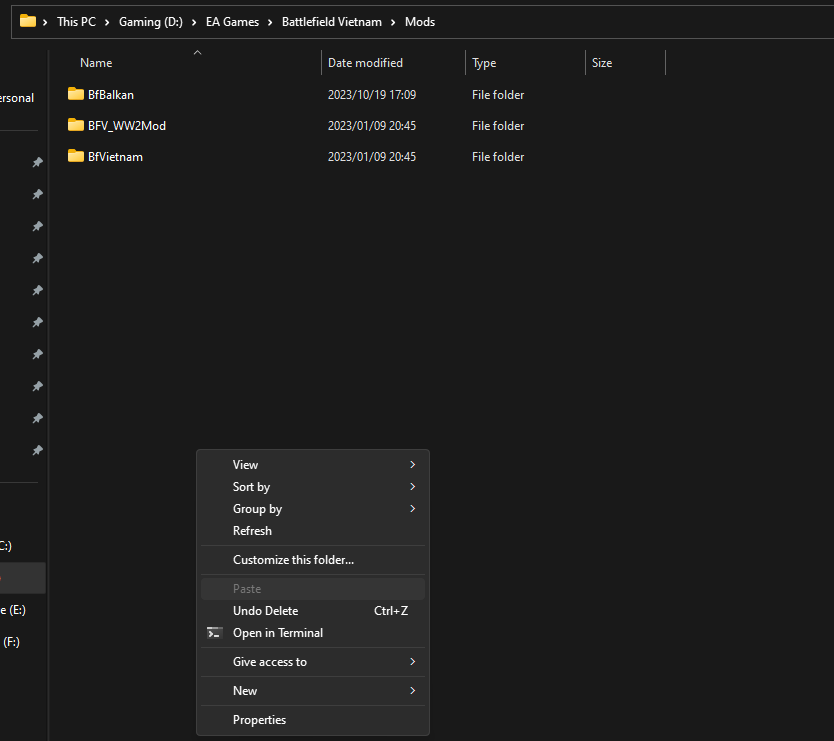 This part is now done, but remember where your game directory is because we're going back in for the next part!
Installation part 2:​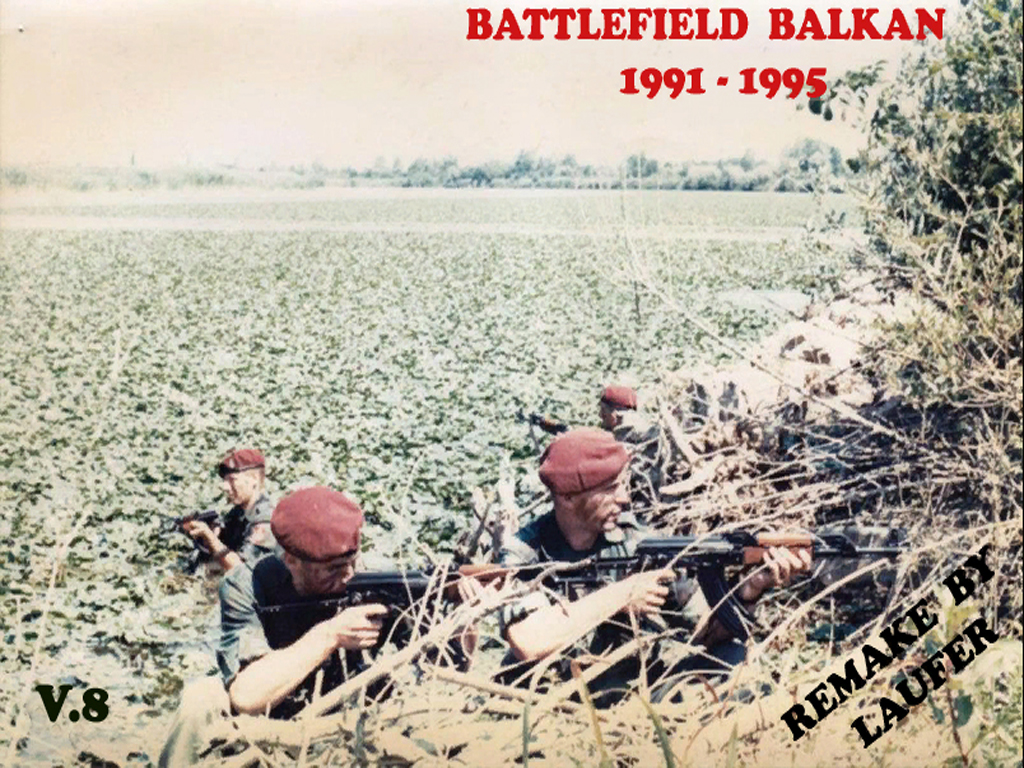 -Multiplayer maps for Battlefield Balkan mod- Eventual bugs or crashes to desktop, might be possible.

www.moddb.com
2.1. Head over to the above link and download the multiplayer maps. They're roughly 680mb (not so bad).
2.2. Once downloaded, extract the file again as we did in part 1. Once extracted, we're going into the folder: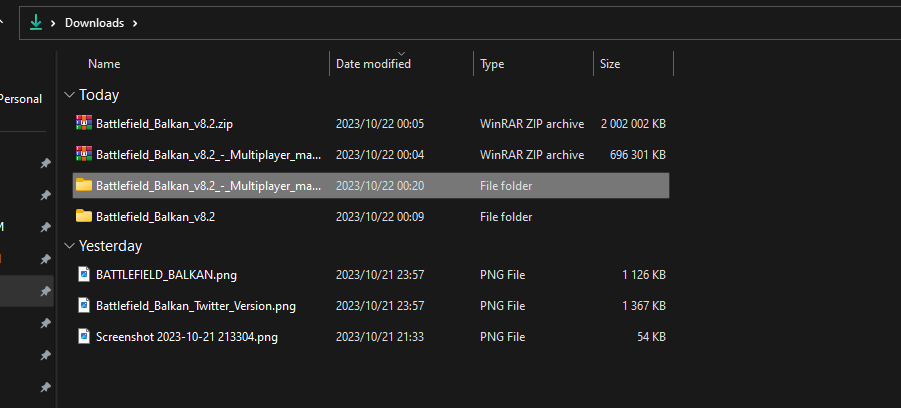 You'll see a "Levels" folder inside of it, we're going to Right Click on it and click "Copy":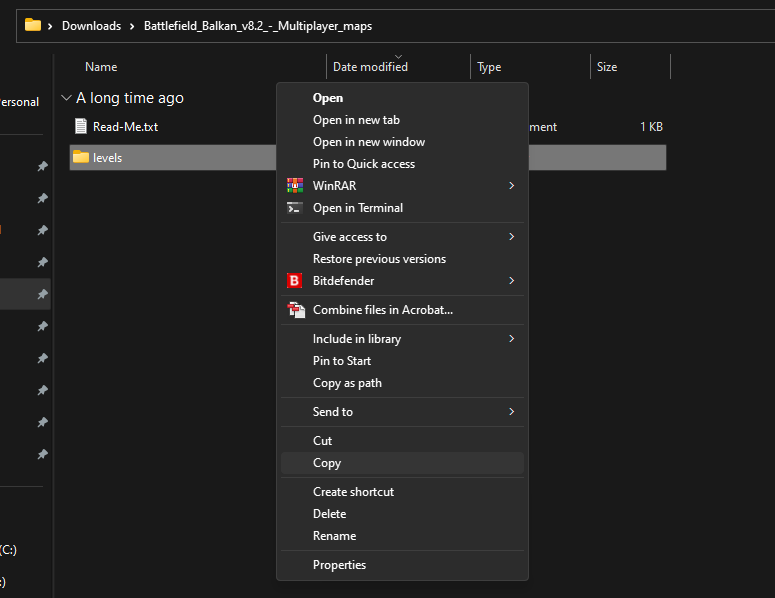 Next, we're going back to our Battlefield Vietnam game directory, into the "Mods" folder and further into the "BfBalkan" folder:

Head into the "Archives" folder: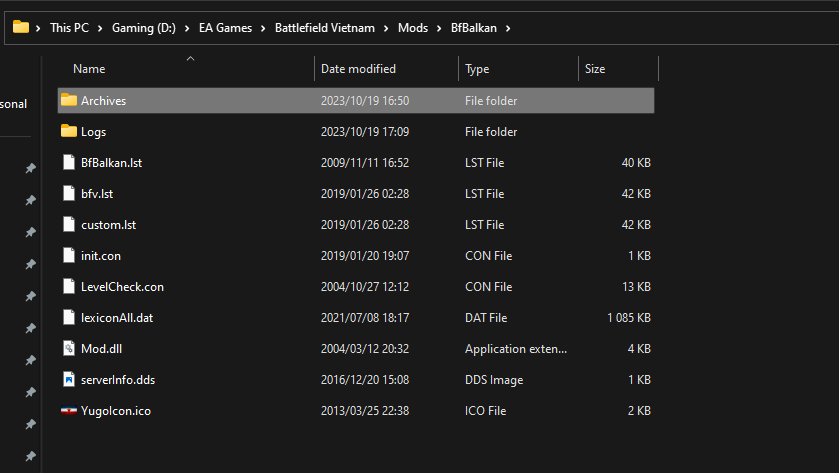 Head into the "BFVietnam" folder: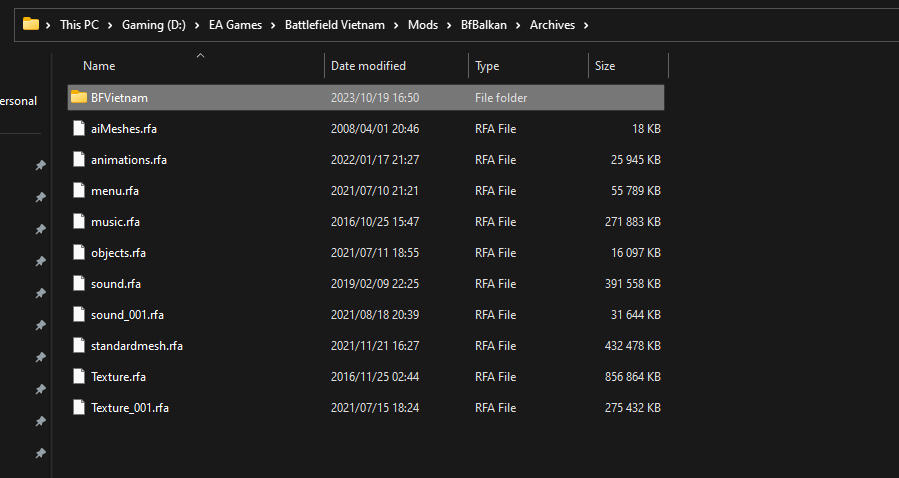 Finally, right click on an empty space and click on "Paste":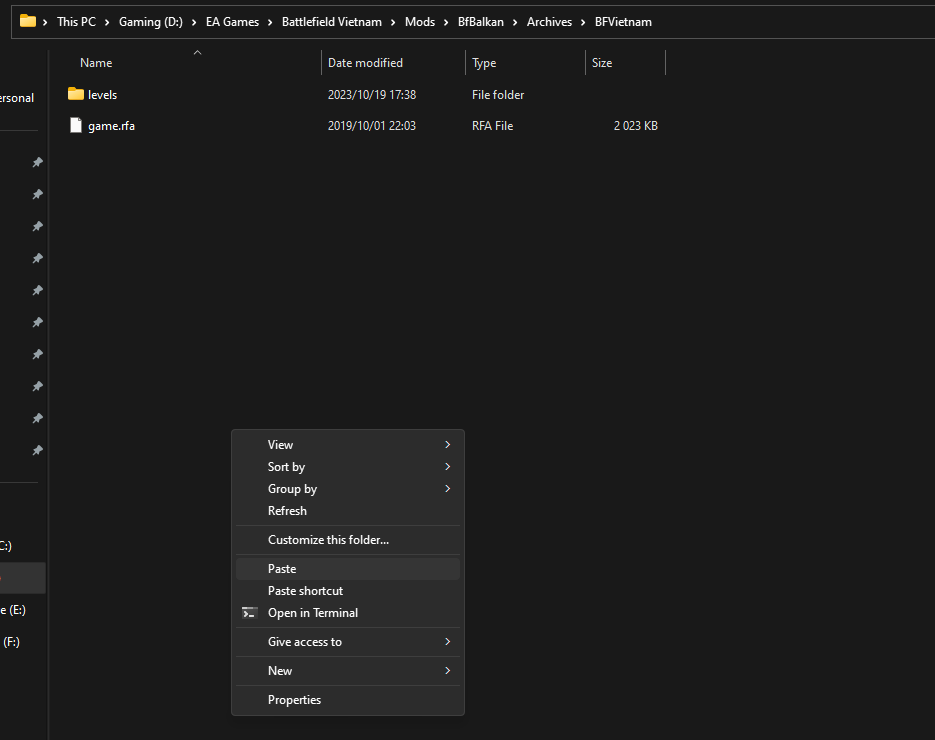 You'll see this popup asking if you want to replace existing files, click "Replace the files in the destination":

You're nearly done! All that is left now is just to create a special shortcut for you!
Creating a custom shortcut:​
Creating a Desktop shortcut (if you don't have one for BFV already):
Head to where your game directory is again and we're going to Right Click on the "Bfvietnam.exe" file, hover over the "Send to" option and click on "Desktop (create shortcut)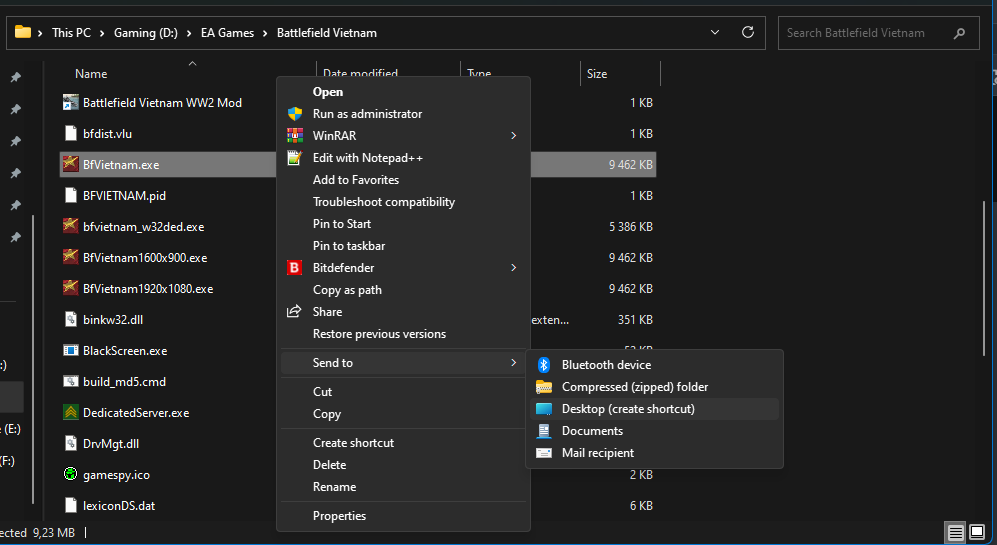 Editing the Desktop shortcut:
Right click on the shortcut and click on "Create Shortcut":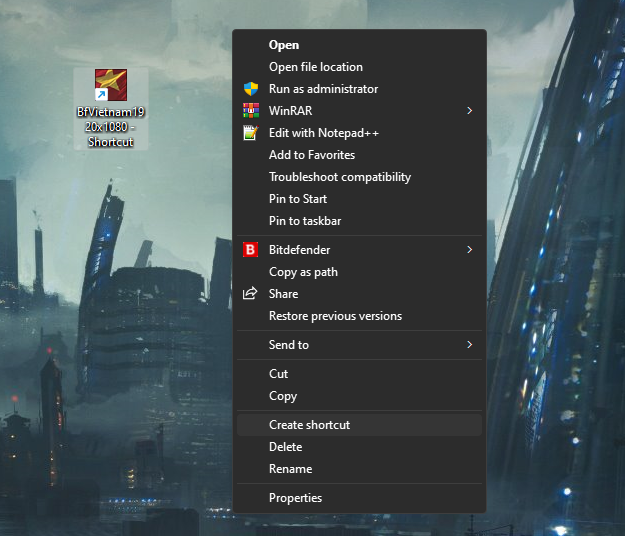 Now you will have two Battlefield Vietnam shortcuts on your Desktop, one for the normal game and one will launch the mod. Right click on any one and click on "Properties":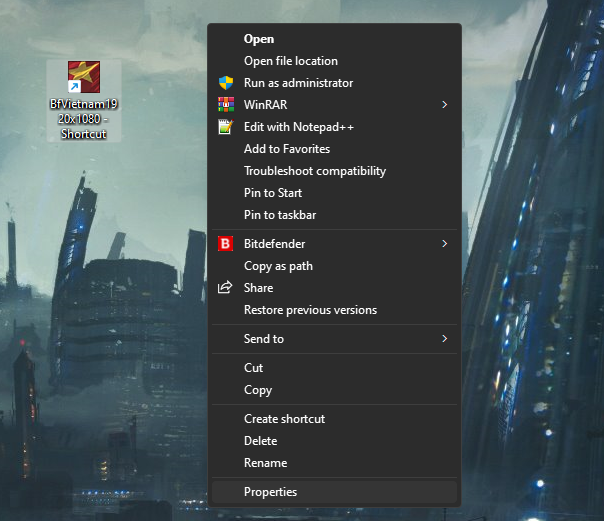 You'll then see this: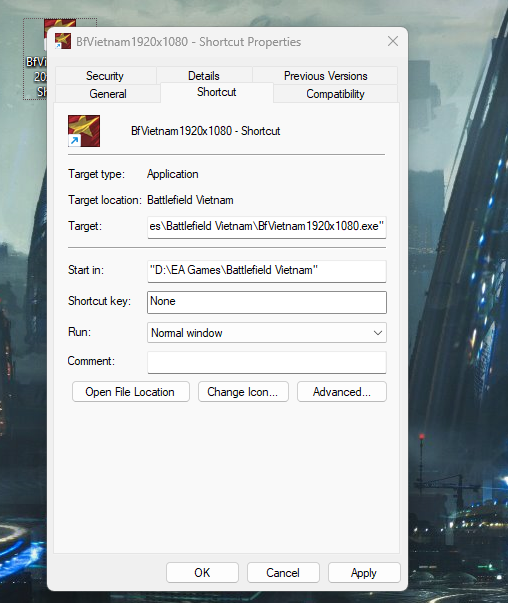 All you need to do here is just add the following to the end of the "Target" field after the inverted commas "
It is important to note that there needs to be a space between the " and the +game BfBalkan so for reference it looks like this on my shortcut: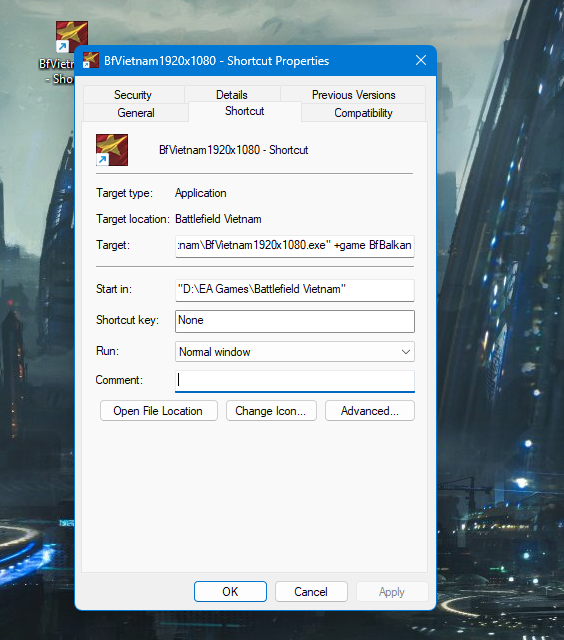 Once done, click on "Apply" and "Ok" then you're done! You can rename the shortcut by Right Clicking on it and clicking on "Rename" if you don't want to confuse them.
---
Checkout some select screens here and of course check all the info and videos on the mod via it's ModDB page! Naturally, a huge thank you to Laufer and his team that made this mode possible as well as easy enough to use in a multiplayer environment!
See you on the Battlefield!​
Last edited: